Steamchicken and Lisa Heywood were a storming success at their last visit to the ruffCeilidhs in 2014. So, here they are again!
For over 20 years, Steamchicken have been delighting audiences with their own brand of fun. In Ceilidhs, concerts, bar sets and workshops, the 7 talented and versatile musicians bring musical genres together in a way that shouldn't work but does. Piano, melodeon, harmonica, vocals and percussion combine with a tightly knit horn section to provide entertainment that goes way beyond a dance or a song. This band don't take themselves too seriously – just don't let Andrew tell the sausage joke!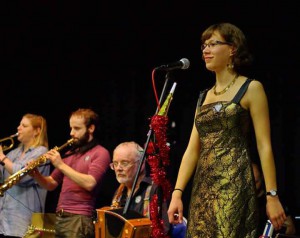 Ted Crum: Harmonica, Bass, Melodeon
Andrew Sharpe: Piano
Ben Wolff/Joe Crum: Percussion
Mandy Sutton: Tenor Sax
Becky Eden-Green: Alto Sax
Katy Oliver: Trumpet
Matt Crum: Soprano Sax
Amy Kakoura: Vocals
Lisa Heywood:  "Despite being a young caller I have many years experience, having been an enthusiastic ceilidh dancer ever since I can remember. I started calling at Cat Kelly's Calling Academy and have continued to develop my skills at the Sheffield University Ceilidh Society and by calling for a wide range of events! I am always expanding my repertoire with exciting traditional and modern dances, occasionally even writing some of my own."
There is a 50p service charge per cartful of tickets towards our PayPal costs.
In your cart:
0
tickets
|
£
0.00
|
Checkout
Online ticket sales for this event are closed.