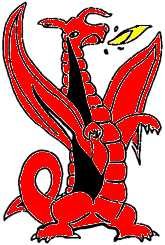 Ruff Ceilidhs – what are they? Well, we always have a live band with a caller who explains the dances.
Other names for this kind of event include Twmpath, Barn-dance, Country dance and also sometimes e-Ceilidh.
Why RUFF? Well it has been described as short for 'Roll Up For Folk', but its really just a misspelling of Rough. Dave Parsons was once asked to create a display dance side very quickly, 'What are you called?' 'Well its going to be rough…'
What we do is essentially traditional folk dancing. This does include new dances based on that tradition. You may have read of  something like it in Jane Austen or Thomas Hardy.  Nowadays these dances are often seen at weddings, birthdays, PTA fundraisers or even at school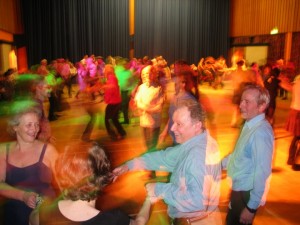 . The reason some of these dances have survived for hundreds of years is that they are infectious and great fun.
It's a wonderful way to meet people, mix the generations, get some exercise, laugh a lot and enjoy some really exciting live music.
The figures can be danced, or walked, as energetically as age, agility and fitness allow. There'll often be several different 'styles' of dancing within the same set.
With a Ceilidh the emphasis is on having fun, not on getting it right or 'historically correct'.
In between dances you will find you need the services of the bar.
Dress – usually pretty informal though you are very welcome to dress to impress. Just remember that you will be moving about ! Flat shoes and trainers are popular.
Social etiquette – many of the dances involve changing partners and dancing with other people, you are often better off trying to mix in with the ones who look as though they know. If you get into a whole set of newbies it is much harder than if you are in a more mixed set.
Everyone is free to ask anyone else to dance, don't wait to be asked.
RuffCeilidhs are run on a 'not for profit' basis by a group of volunteers.
RuffCeilidhs are pleased to be supported by the Ruff Folk Dance Club. On an event by event basis we are happy to have a limited guarantee against loss from Noson Allan – Night Out, an Arts Council of Wales scheme that takes away the financial risk of bringing professional shows to community venues in Wales