The next Ruff Ceilidh at the Heath in Cardiff features  the real live Steamchicken experience with the excellent Lisa Heywood calling.
"You know you're guaranteed a good night when you see Steamchicken's name on the bill. Their genre defying sound flirts shamelessly with jazz, blues and folk, but they refuse to be pigeon-holed. Their performance is endlessly watchable, enviably accomplished and ridiculously fun. And it's a scientifically certified fact that no mammal can listen to Steamchicken and resist dancing." – Blackbeards's Tea Party
They have a new album underway but for now here's a link to one of their tracks – Boom Boom
We're also delighted to announce we have a guest spot from Cardiff Morris – Cardiff's best and only morris side.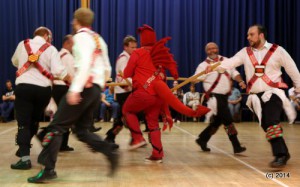 It's on Sat 19th November at 8pm. – buy tickets now
Admission £10 on the door, or get your tickets for £8 in advance.
Concessions (Ruff Dance club members, Students with cards, Advance tickets) £8, accompanied children up to 16 years £5, family (2 adults, up to 3 children) £25
As always there will be a Real Ale Bar with soft drinks and filled rolls.
It could help us a great deal if you download a poster and display it thoughtfully! More dancers = more fun for us all.
Let us know what you think of the Ruff Ceilidhs. If you are already using Twitter or Facebook then please, like us, follow us, and join in the conversation there.
You can also email us using 'info at ruffceilidhs dot org'
---
To keep up to date with Ceilidh news, sign up below for our occasional e-mails.  As a rough guide there should be one or two mails for each ceilidh. To see some we made earlier, click here.

---