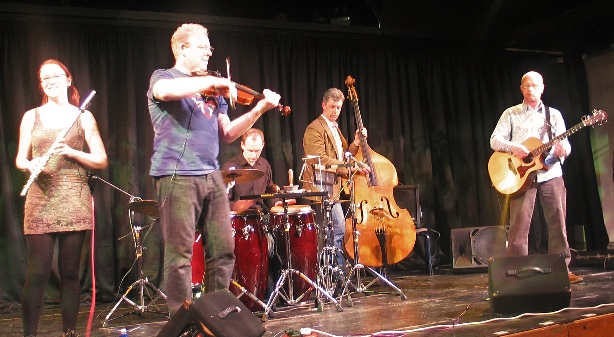 Juice originated in the 70s as Juice of Barley when Jenny and Gil Kilbride started their Ceilidh band. At the time their boys Danny, Bernard and Gerard were playing punk music for no fee. The idea of playing for money, even folk music, seemed very attractive and slowly but surely the boys were hooked, bringing with them their electric bass player (Dean) and forcing him to play the upright bass.
Youthful beauty took over from age when the parents retired and with various additions (and subtractions!). The modern day Juice line-up is fronted by Bernard KilBride (fiddle) with melodic support from Imogen O'Rourke (flute), Daniel KilBride on guitar and Dean Ryan on bass.
There is a 50p service charge per cartful of tickets towards our PayPal costs.
Please note, advance sales close 24 hours before the event.
Online ticket sales for this event are closed.