Hampshire-based Threepenny Bit are an example of how traditional dance tunes and contemporary sounds can be blended into a fresh interpretation of folk music. This dynamic eight-piece band combines a group of diehard folkies with some of the finest young jazz and classical musicians in the south.
They play bold arrangements of traditional and original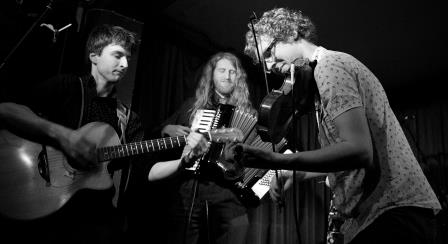 tunes with infectious stage energy for concerts and ceilidh dancing.
'Bursting with energy' – Martin Chilton, The Telegraph
'It's addictive stuff as forays into rock and jazz blend with interpretations of trad British Dances' –
The Musician
'The most head-spinningly original album to emerge from the current crop of young folk collectives this year. Forget nodding along approvingly, this is an all-out musical bombardment' –
Rob Fearnly, Bright Young Folk
Ian Nichols is our caller for the night. Ian organises a series of ceilidhs near Winchester (SHOCC)and has called with many of the current leading ceilidh bands. He called recently at the ruffCeilidh with Jigfoot and delighted everyone with his ability to move seamlessly from walk through to dance.
Advance ticket sales close 24 hours before the event. Full price tickets are still available on the door.
There is a 50p service charge per cartful of tickets towards our PayPal costs.
In your cart:
0
tickets
|
£
0.00
|
Checkout
Online ticket sales for this event are closed.